So wie's aussieht, läuft hier ein Pilotversuch zur Warenlieferung von Whole Foods mittels kleinen selbstfahrenden Robotern. Die standen heute jedenfalls in der Mittagszeit vorm Whole Foods in Palo Alto, wurden befüllt, aber sind noch nicht gefahren. Keine schlechte Idee, denn das Nutzlast-zu-Ballast-Verhältnis ist in jedem Fall besser als beim Auto und auch mit dem Velo wird's schwierig, weil ja der Fahrer auch zum Ballast zählt. Für die letzte Meile der Warenlieferung wäre das durchaus praktisch, wenn sehr schnell nach der Bestellung die Auslieferung beginnen kann.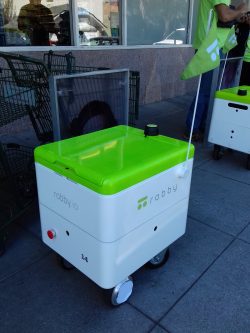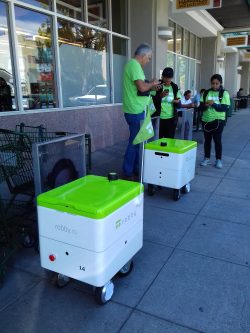 Hier noch ein Video zum abgebildeten Roboter: robby.io-Video
Das passt perfekt dazu, dass Amazon vor einiger Zeit Whole Foods gekauft hat.
First, this is about food as a delivery service.
[…]
Second, this is about Whole Foods as a distribution hub—and Amazon as a physical retail presence.
[…]
Third, this is about Amazon as a "life bundle," particularly for affluent Americans.
Der Artikel fasst das sehr gut zusammen. Amazon kriegt durch den Kauf hochwertige Standorte (Whole Foods ist sehr hochpreisig) in Regionen mit hoher Kaufkraft, wo also Menschen Leben, deren Leben sich mehr und mehr online und auch im Amazon(-Prime)-Umfeld abspielt. Die können sich jetzt auch den täglichen Einkauf liefern lassen und müssen dafür nicht mal mehr die Amazon-App verlassen.
Der letzte Absatz im Text ist der beste:
After today's announcement, several people on Twitter joked that between Prime and Whole Foods, Amazon may now account for a majority of some urban Millennials' discretionary spending. What's not a joke, however, is that Amazon's life bundle, like TV's cable bundle, is fundamentally about the merchandizing of convenience, which is often indistinguishable from sheer human laziness.
[…]
Die reichen Leute (=urban millennials) sind halt einfach faul und bequem 🙂
Abends ging's zum Meetup der Bay Area useR Group, als Quasi-Stargast kam Hadley Wickham, zuletzt von mir im September 2014 (ich in Migros-Diensten) in London gesehen. Damals kam mir sein Dialekt noch etwas abgefahren vor, aber nachdem ich jetzt in Neuseeland war, ist das knapp vor dem australischen der beste. War schwierig, sich auf den Inhalt zu konzentrieren 🙂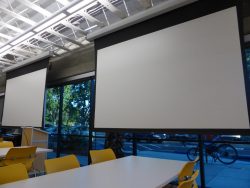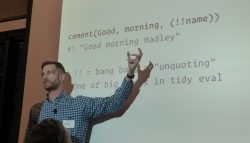 Ich hab ausserdem noch fünf kurze Videos vom Bay Trail gemacht, den ich jetzt mindestens einmal am Tag entlangfahre: Playlist auf youtube. Auf dem ersten Video der Playlist werde ich am Ende von einem motorisierten Rollbrettfahrer verfolgt, der war mit >30km/h unterwegs. Auf diesem hier sind ein fremder Geocacher und ein Squirrel kurz zu sehen.
Und hier bin ich bei 08:25min auch zu sehen, das war bei der Ben-Shapiro-Veranstaltung in Berkeley: https://www.youtube.com/watch?v=ZCV3zPXrygg.