Der Tageszähler geht jetzt rückwärts. Zufällig hatte ich beim Durchfahren des Stanford-Campus einen Hinweis auf Mehran Sahamis Vorlesung "Don't trust your gut" gesehen, die ich mir dann gestern im NVIDIA-Auditorium auch angeschaut habe. Das Video davon ist hier auf Facebook zu finden. Es war sehr unterhaltsam, er hat erst (für mich) eine sehr gute Auffrischung von Wahrscheinlichkeitstheorie gegeben, inklusive Bayes'schem Satz. Zwischendurch hat er nebenbei noch das Geschäftsmodell von Versicherungen erklärt. Seine vielen eingebauten Wettspiele mit Dollareinsatz waren dazu sehr anschaulich. Sowas könnte man als Einführungsveranstaltung für Wahrscheinlichkeitstheorie nehmen und sich hinterher an den Details der Vorlesung ein ganzes Semester lang austoben.
Nachts ist der Stanford-Campus auch sehr schön, fast keine Leute, Vollmond und T-Shirt-Temperaturen so gegen 22 Uhr.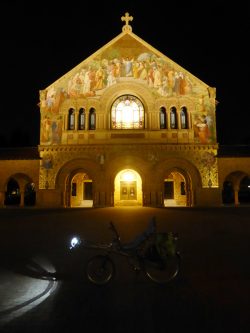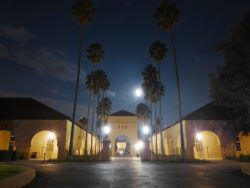 Zu dem, was ich neulich zu Waymo und dem Shadow Driving geschrieben habe, gibt's auch noch eine kürzere anschauliche Fassung: Simulation: how one flashing yellow light turns into thousands of hours of experience.